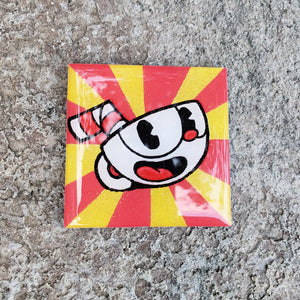 There's nothing difficult or frustrating about this magnet - just a lot of color and promises. You know, just like the allure that brought about your love of the game to begin with. 

Approximately 2"x2" wood base with resin overlay sheet magnet. Hand painted with a red and glittery gold starburst background and accented with that happy face we all know and love.
Caring for Resin:
When possible, keep out of direct sunlight for long periods of time.
Wipe clean with a damp cloth, never wash in the dishwasher.
Magnets are n

ot recommended for outdoor use.