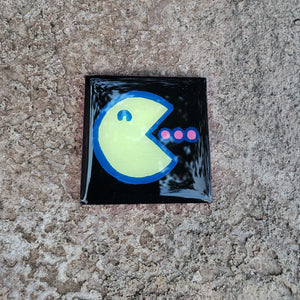 You know, it's a wonder Pacman hasn't gone insane after all these years. The same four ghosts, the same mazes... and I bet the pellets all taste the same. You think he's just stuck in a nightmare? Man, I hope so.
Approximately 2"x2" wood base with resin overlay sheet magnet. Hand painted with a flat black and accented with a retro-colored Pacman and pellets.
Caring for Resin:
When possible, keep out of direct sunlight for long periods of time.
Wipe clean with a damp cloth, never wash in the dishwasher.
Magnets are n

ot recommended for outdoor use.