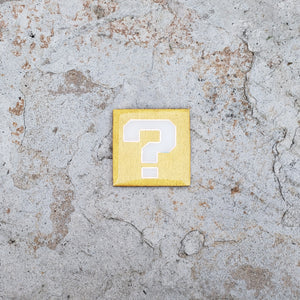 Are you constantly questioning life? Wondering why Mario is #1 and Luigi is #2? Me too. The guy is way too cheerful - that's not normal....
Approximately 2"x2" wood base with resin overlay sheet magnet. Hand painted in a flat yellow base with gold topcoat, question mark is accented with flat white and opal holo outline.
Caring for Resin:
When possible, keep out of direct sunlight for long periods of time.
Wipe clean with a damp cloth, never wash in the dishwasher.
Magnets are n

ot recommended for outdoor use.