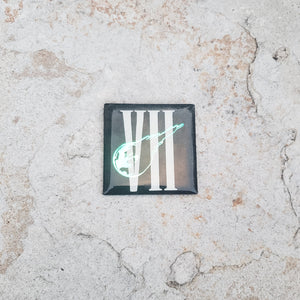 The Final Fantasy VII Remake has come and gone and boy are theories flying! Just like the 10,000 other filler items being put out for VII right now. Let's all roll our eyes together.
Approximately 2"x2" wood base with resin overlay sheet magnet. Hand painted in a flat black base with metallic topcoat, logo accented with flat white and meteor in green holo.
Caring for Resin:
When possible, keep out of direct sunlight for long periods of time.
Wipe clean with a damp cloth, never wash in the dishwasher.
Magnets are n

ot recommended for outdoor use.